To add a personal and fun touch to your wedding, create a signature cocktail you can serve your guests during cocktail our or during the entire event. To help find ideas think of you and your partner's favorite cocktail, different seasonal flavors and colors. Below are some images and cocktail recipes I have found:
Orange:
Orangesicle Cocktail (One of my favorites):
Ice cubes
Orange Juice
Vanilla flavored Vodka
Vanilla Ice Cream
Orange Soda
Directions: Place ice cubes, vanilla ice cream, vanilla flavored vodka and orange juice in a blender and blend well. Pour 3/4 full into serving glass. Equally top each glass with orange soda. Dip orange slices in sugar and place on rim of glass for garnish.
Peach Martini:
2 fl. oz. vanilla-flavored vodka
1 fl. oz. peach schnapps
2 fl.oz. fresh peach nectar*
1/2 fl. oz. fresh lime juice
Ice Cubes
Peach Slice (for garnish)
chilled martini glass
Directions:
*Fresh Peach Nectar
You'll need enough soft, ripe peaches (about 1/2 lb. by weight) to equal 1 cup of sliced peaches. Boil enough water in a pot to be able to just submerge the peaches. Place the peaches in the water just long enough for their skins to loosen, then immediately remove them and shock them in some ice water. You should be able to easily remove the skins with your hands. Peel the peaches, remove the pit, and slice them.
Combine 1 cup of sliced peaches and 1/2 cup of water in a blender and liquefy until smooth and free of chunks. Next, strain the peach puree through a sieve. You can store this for 3-5 days in a glass jar or bottle in the refrigerator until you're ready to use it
Add the vodka, peach schnapps, peach nectar, and lime juice into a martini shaker along with some ice. Shake until thoroughly mixed and chilled, then strain into a chilled martini glass. Garnish with a slice of fresh peach.
Mango Margarita:
. 4 oz. tequila1 oz. Triple Sec 2 mangos, peeled and seeded1/2 oz margarita mix
2 oz. water 2 cups crushed ice
Directions:
Add all ingredients to blender and blend until smooth. Makes 2 servings.
Purple:
Ingredients:
2 oz Van Gogh Açai Blueberry Vodka
1/2 oz Simple Syrup
1 oz Fresh Lime Juice
10 Mint Leaves
10 Fresh Blueberries
Club Soda
Directions:
Muddle mint leaves, blueberries, and simple syrup in cocktail shaker. Fill with ice, add the vodka and lime juice and shake well. Strain into an ice–filled highball glass and top with the club soda. Garnish with mint sprig or skewer of fresh blueberries.
Purple Rain Cocktail:
1 shot of Blue curacao
1 shot of Peach Archers
Lemonade
A dash of Grenadine
Optional: 1 shot of Vodka
Directions:
Fill serving glass with ice. Add shot of Blue curacao and Peach Archers. Fill the the glass with lemonade. Add a dash of Grenadine. Stir all ingredients together in glass. Garnish with lime slice.
Pinks:
Blushing Bride:
Pink Lemonade
Vodka
Lime Twist
Optional: Add 7 up for a bubbly drink!
I love the idea of serving the drinks in a mason jar, SUPER CUTE!!
Want to make it kid friendly, remove the vodka and pre-make it in a large jar for family and friends to service themselves!
Watermelon Champagne Cocktail:
3 watermelon chunks
1/4 oz. fresh squeezed lemon juice
1/4 oz. simple syrup (equal parts sugar:water)
1/4 oz. Grand Marnier
1 drop orange flower water
3 oz. Veuve Clicquot Champagne
Directions:
Muddle the watermelon in the lemon, simple, Grand Marnier, and flower water in a mixing glass. Add ice and Champagne and stir briefly. Strain into a chilled champagne flute. Top off with extra splash of Veuve. Garnish with lime twist or watermelon slice.
Midori Sour:
1 part Midori
4 parts sour mix
Melon balls
Directions:
Serve in a rocks glass over ice. Garnish with melon balls.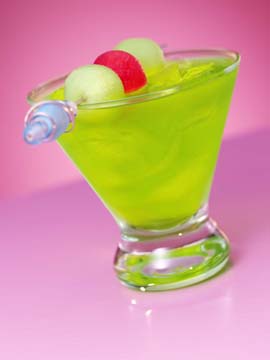 Midori Cosmopolitan:
3/4 oz Midori
2 oz citrus vodka
Splash of white cranberry juice
Directions:
Shake and strain into a chilled glass. Add an optional curly lime peel garnish.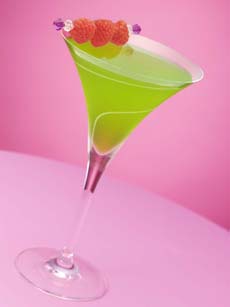 Directions:
Pour all ingredients into a champagne flute!
Blue Moon Cocktail:
1 cup crushed ice
1/4 cup vodka
1/4 cup blue curaçao
1/4 cup whipping cream
2 tablespoons vanilla-flavored syrup (such as Torani)
2 tablespoons fresh orange juice
1 tablespoon Cointreau or other orange-flavored liqueur
Directions:
In a blender, combine all ingredients and whirl until smooth. Pour into four martini glasses (4 oz.) and garnish the rim of each glass with a slice of orange.
Here is an example of where the bride used her name in the signature cocktail name:
Enjoy and drink safely! :)